I haven't posted a recipe in a while and thought I'd take a few of our "go to" easy favorites that don't take too long to whip up. I made this first one for Doug and Lindsey when we visited them in Texas for the baby blessing last week.

1 tube (11 0z) refrigerated crusty French loaf
3/4 to 1 cup shredded mozzarella cheese
3/4 to 1 cup shredded cheddar cheese
1/4 lb EACH thinly sliced deli salami and ham
1/4 cup chopped roasted red peppers OR 1 jar (2 oz) pimientos, drained
1 Tbsp butter or margarine, melted
2 to 3 Tbsp shredded Parmesan cheese

Unroll the dough and pat into a 14"x12" rectangle. Sprinkle with cheeses to within 1/2" of the edge. Top with meat and red peppers. Roll up jelly-roll style, starting with a short side; seal seam and tuck ends under.

Place seam side down on an ungreased baking sheet. Brush with butter; sprinkle with Parmesan cheese. Bake at 375 degrees for 25-30 minutes or until golden grown. Slice with a serrated knife. YIELD: 4 servings.
Notes: I've made this with reg. bread dough (store bought or my own) too - just so long as you have a nice bread in which to roll up the goodies I don't think it matters. We always use the pimientos - .68 at Walmart. I bet you could use diced (non roasted) peppers too if that's what you have on hand. Taste-wise the salami is the KEY to this yummy dish. I bought some and froze it Ziplocs so I would always have some on hand when we get a hankering for this.

And from this same issue (also pictured above - this page in my magazine is well used)
Cheesy Floret Soup
3 cups fresh broccoli florets
3 cups fresh cauliflowerets
3 celery ribs, sliced
1 small onion, chopped
2 cups water
1/2 tsp celery salt
3 Tbsp butter or margarine
3 Tbsp all-purpose flour
2 1/3 cups milk
1 lb process cheese (Velveeta), cubed
In a large saucepan, combine the first six ingredients. Bring to a boil. Reduce heat; cover and simmer for 12-15 minutes or until veggies are tender.
Meanwhile, in a small saucepan, melt butter; stir in flour until smooth. Gradually stir in milk. Bring to a boil; cook and stir for 2 min. or until thickened. Reduce heat; add cheese. Cook and stir until cheese is melted. Drain veggies; add cheese sauce and heat through. YIELD: 4-6 servings.

Notes: This is only reason I ever buy Velveeta - this soup is SO good. I sometimes steam instead of boil the veggies and have omitted celery salt (I eventually bought some just for this) and it turned out fine.
I often make this with Cheddar Bay Biscuits (from allrecipes.com)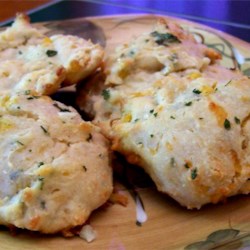 4 cups baking mix (like Bisquick)
3 oz cheddar cheese, shredded
1 1/3 cups water
Mix these with a fork or spoon or whatever you like. I always eyeball the cheese - too much work to divide my loaf of 32 oz. of cheddar visually into a 3 oz. section. I shred until it looks good.
Spoon up some dough and drop onto ungreased baking sheet. Bake at 375 degrees for 10-12 minutes or until lightly brown on top (this will take longer if you make bigger biscuits).

Meanwhile mix up the yummy topping! Mix the following in a bowl and brush over biscuits with a pastry brush when they come out of the oven.
1/4 cup butter, melted
1 tsp garlic powder
1/4 tsp salt
1/8 tsp onion powder
1/8 tsp parsley (just eyeball it - I add more because I like the color)